A Stroll Down Memory Lane
Pantai Baptist Church Petaling Jaya (PBC) and First Baptist Church Subang Jaya (FBC) are two independent Baptist churches that grew out of a common root that was planted in the 1950s by missionaries from the Foreign Mission Board (FMB) of the Southern Baptist Convention (SBC), USA. The land on which PBC now stands was purchased in 1957 with funds from the Lottie Moon Christmas Offering of SBC.
The Annual Christmas Offering for international missions was named after Ms Moon for her exemplary service to the Lord Jesus Christ in China for 39 years.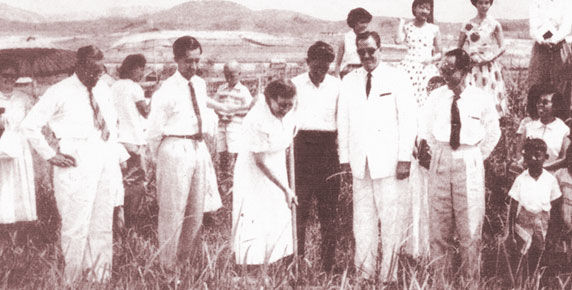 1950s & 1960s
FBC was established in June 1957 as the first English-speaking Baptist Church in Petaling Jaya. It grew out of worship services and Sunday School classes started by Ms Jessie Green, and Harold and Ann Clark (SBC missionaries) at the Baptist Clinic building in Jalan Dispensary, Petaling Jaya Old Town.
Its first interim pastors were Glen Martin and Herbert Holley before Pastor Charles Morris was appointed FBC's full-time pastor in April 1958. After the dedication of the church building on 5 April 1959, Pastor Morris left to serve in Singapore. He was succeeded by Pastor Clarence Thurman who was the longest-serving missionary pastor of FBC (Jan 1960 – Sept 1968). Pastor Glen Herrington then became FBC's last missionary pastor (1969).
FBC in the 1960s was a small church made up of young people (under 20) who was actively involved in outreach training and other ministries set up by the Thurmans. They were the Young People's Union, Baptist Training Union, FBC Library, FBC Choir, the First Vacation Bible School (1962), and Jack & Jill Kindergarten (1967).
When the University of Malaya was set up in 1961, FBC made it their mission field. One outstanding youth leader from that era was Rev. Amos Lee who is now the Senior Pastor of the Chinese Independent Baptist Church in San Francisco, USA.
Church planting was a priority
1970s & 1980s
With the end of the FMB missionary pastorate, FBC's Board of Deacons comprising Ang Chooi Tuan, Lloyd de Run, Fred Van Dort, Charles Aw, Thomas Heng and Sonny Wong, elected Lloyd de Run as the first local pastor of the church. Continuing the legacy of the FMB missionaries, church planting was a priority of FBC during the 1970s and 1980s.
A group of FBC members founded the Bethel Baptist Chapel in Kuala Lumpur in 1970. FBC worked with Emmanuel Baptist Church Petaling Jaya (a Cantonese-speaking church) to begin mission outreaches in Klang, Damansara Heights, Kepong and the then-new township of Subang Jaya. Subsequently, Klang Baptist Church was set up in July 1976, followed by Kepong Baptist Church in February 1980, Subang Jaya Baptist Church in August 1981 and Damansara Heights Baptist Church in July 1987. FBC's New Chariots Adventure Fellowship in the 1980s in Kampung Ayu, Damansara led later to the founding of the Tamil First Baptist Church (Damansara) in the year 2000.
FMB Missionaries, Don and Yvonne Miller, started a Tamil outreach in Ampang with FBC as a partner in 1989. Pastor Lloyd de Run started the home group ministry at his house. After seven years of service to the Lord, Pastor de Run passed away from cancer in December 1977. FBC appointed James Lai (University of Malaya graduate) to serve as pastor. New ministries were added to the church. They were "The Kalos Kids" (a children's choir) and Karis (a senior citizens' fellowship).
Discipleship groups grew to 23, involving 140 members out of a church membership of 662 in the 1980s.

1990s
The late 1980s was a difficult time for the church. A significant group of members left FBC over charismatic issues. FBC requested for assistance from FMB, and Missionary pastor David Watson was assigned to FBC (1988-1989) in the interim. In March 1990 Pastor Tan Soo Inn from GeorgeTown Baptist Church Penang joined FBC.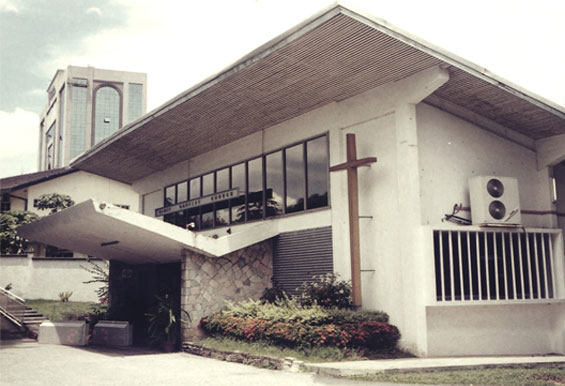 Pastor Tan proposed the Mega Church concept which was embraced by the congregation. FBC was to be one big church with two centres of worship, FBC Pantai Centre and FBC Subang Centre. A new era of evangelism began. The Old Klang Road team ministered to squatters, Mother's Club was formed, and the Filipino Ministry was started by Titus and Beth Laxa. In 1993 the FBC Missions Board was set up. RIOT was started in 1996 as a youth initiative and the New Hope Ministry began in October 1997. In 1998, FBC was involved in the Morning Glory Rehabilitation Centre and the Agape Community Centre in Bukit Pelanduk to help those who suffered from the outbreak of the Nipah virus. Three mission trips were organised to Tawau, Sabah, Nepal and China. The first Youth Service began in FBC Pantai in September 1998.
The pastoral team of FBC in the 1990s comprised Pastor Tan Soo Inn (1990 – 1995), Pastor Ang Chooi Tuan (1989 as staff pastor), Pastor Joseph Seah (1992), Pastor Mark Chen (1994 – 1999), Pastor Bernard Ang (1994: Subang Centre Chinese congregation), Pastor Isaac Yim (1996 – 2000), Youth Pastor Chen Khin Wee (1995 – 2000), Pastors James Indran and K Chandran (1995: Ampang Tamil Baptist Church with outreaches in Cheras and Kampung Pandan), Pastor Edward Ha (1999: Pantai Centre Chinese congregation), Pastor Princeton Tay (1999: Subang Centre Chinese Congregation), and Pastor Chua Soon Kent (1999: Subang Centre).
Redevelopment of FBC Pantai Centre (Mar 2000 – Mar 2002)
The need for additional space and facilities to accommodate the expanding ministries in the church led to a decision to redevelop the Pantai land. The entire Pantai congregation moved to Subang Centre in March 2000. The joint congregations continued with their respective ministries and despite the constraints, the Parish Nursing Ministry (July 2001) was set up and FBC Family Day was launched in November 2001 to foster closer relationships between the Pantai and Subang congregations. The International Students Ministry (ISM) (2001) began its reach to foreign university students in Petaling Jaya. Two years passed and the newly developed Pantai Centre was dedicated to the Lord on 29 June 2002.
FBC's pastoral team in the years of 2000 – 2009 comprised Pastor Tan Eng Lee (2000 – 2009), Pastor Leong Swee Huat (2002: Cantonese-speaking congregation), Youth Pastor Timothy Yap (2002), Pastor Thomas Ooi (2002), Pastor Ooi Aun Leong (2004: Mandarin-speaking congregation) and Pastor Phillips Koh (2006 – 2009 as Senior Pastor).
Subang Centre Redevelopment Project (Mar 2008 – Mar 2010)
With Pantai Centre redeveloped, FBC proceeded to plan for the redevelopment of Subang Centre. The development cost of RM8 million for the two acres of land was funded by FBC's Reserve Fund (RM2 million) and contributions from the congregation (RM6 million). The Lord's people gave generously.
The Subang congregation moved to FBC Pantai Centre in March 2008. The people of God had learned from the first exodus to manage all the ministries well in difficult circumstances. Mission trips were made to China, Nepal and Cambodia. FBC joined other churches in the Migrant Ministry Partnership to reach out to Nepalese workers. The Nilai Students Ministry which began in 2002 continued to flourish and the FBC Mission Board supported Grace Ong in Mongolia, Franklin and Sapana in Nepal, Martin and Diana in Yunnan, China, Benny and Jade in Sarawak, Young Soon and Patricia in Malaysian Care, and Mark Jit in OMF London. Church members were involved in child sponsorship for the Kapatid Ministry in the Philippines. Then the day arrived for the return of the Subang congregation to the redeveloped Subang Centre on 7 March 2010. The Lord had blessed both the Pantai and Subang Centres with new buildings and facilities to continue His work.
A New Way Forward
With both the Pantai and Subang lands redeveloped, FBC on 27 June 2010 voted by a majority to have separate self-governing congregations with greater autonomy to reach out to their respective communities. Pantai Baptist Church (PBC) was formed and became a member of NECF (National Evangelical Christian Fellowship) on 10 August 2010. Subang Centre carried on the Lord's work under the name of First Baptist Church with both English-speaking and Chinese-speaking congregations.
As we look back over the last 60 years, we can only see Divine Grace at work from the time God sent missionaries to set up FBC till today where the lands He gave us have been developed into two big churches with expanding memberships, increased tithings and active ministries.
PBC has a vibrant Kids4Christ/VBS and Youth Ministry, growing Care Groups, a zealous Missions Ministry that reaches out to communities across the nation and overseas, a fabulous choir and music team, a strong Boys' Brigade Ministry, Karis Fellowship, Ladies Fellowship, Cancer Support Ministry, Evangelical Explosion (EE) Discipleship Training Ministry, Bible Study Fellowship (BSF), East Malaysian Fellowship, Visitation Ministry, Floral Ministry, as well as growing Mandarin and Cantonese congregations.
It is the same Lord who will see us through the future no matter what difficulties may befall us. He will never leave us nor forsake us (Hebrews 13:5).
We are His Church. We are His People. The Lord is Our God.
947 total views, 4 views today